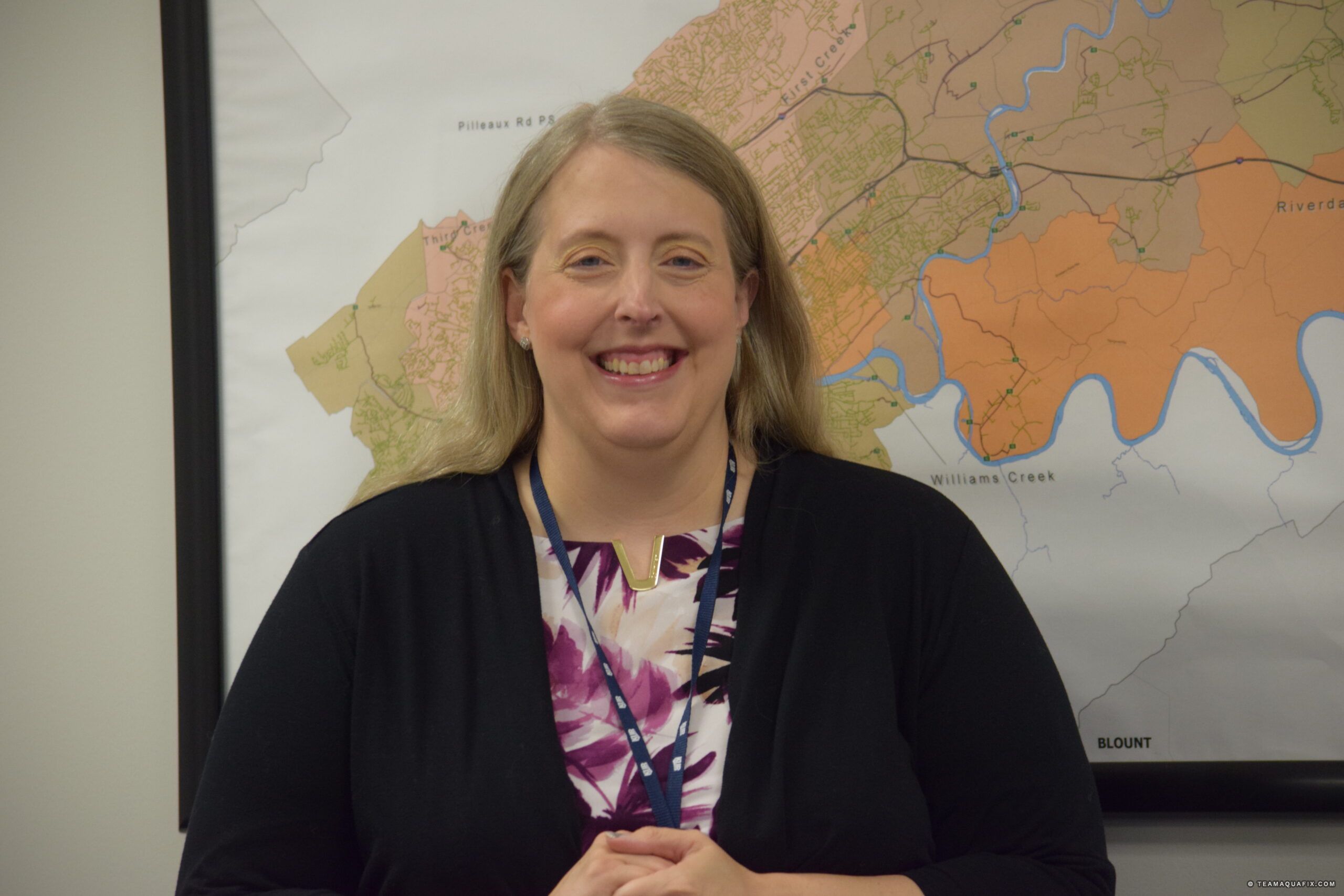 Position:
Water/Wastewater Operator
Company: Minnesota municipality
Time in the Industry: 19 years
"Although working in this field can be challenging, it is also very rewarding. We get to work with, and for, our community, and we go home every day knowing that our work has contributed to protecting the health and welfare of our customers and the environment."
What does a typical day look like for you on the job?
A typical day for me includes any number of activities. As the Industrial Pretreatment Coordinator, I work closely with our industrial customers. I visit their facilities often to offer guidance and to make sure they and KUB meet or exceed all regulatory standards. I also oversee all of KUB's wastewater National Pollutant Discharge Elimination System (NPDES) reporting. This includes working with our plant operators, engineers, and regulators to ensure all permit limits are continually met and Knoxville's local resources are protected. I also head up several KUB teams that are focused on looking toward the future and how we can prepare for any emerging regulations. Every day can be a little different, but I have a great manager and work with a wonderful group of people. I absolutely love what I do.
What thing about your career in wastewater has surprised you most?
Before I was part of this industry, I didn't know anything about wastewater treatment. Once I started learning more and more, I was surprised at how much goes into it and the variety of the treatments. The scientist in me was fascinated with biological processes and the laboratory. I've had a chance to see many different plants, laboratories, and processes over the years, and even after all this time, I still feel as if I'm learning something new every day.
Have you enjoyed educating the public about your job? What has been the response from your community?
I greatly enjoy being able to work with the public. One way I educate the community is through our customers in the pretreatment program. I've also worked with other utilities and community agencies for local medication collection events. KUB offers us opportunities to volunteer and participate in the communities we serve. My favorite has been the opportunities I've had to work with school children. We participate in events where we get to show them how the microorganisms work in the plant and how some of our laboratory tests are performed. The response has always been positive, and kids are always amazed at our processes.
Why did you decide to pursue a career in the wastewater field? Did you always want to work in this field or was there a defining moment in which you chose this path?
I think wastewater chose me. When I graduated from college, I went to work in a genetics lab and quickly realized it was not for me. I've always had a heart for science and the environment, so when I saw that my college offered a Master's in Environmental Management program, I enrolled. While working on this degree, I was hired as the laboratory manager for two small wastewater plants. I loved it, and when my family moved to Tennessee, I started working for KUB. I started in the laboratory and then gradually worked my way into my current position, where I truly feel I have found my niche.
Lessons from parents/role models that still ring true?
My mother has always been my biggest role model. She was a single mom with two kids, and times were tough, but she always made sure we knew that we could overcome any obstacle. She taught me how to be self-reliant and to go after my dreams. Now she and I are teaching those things to my daughter. My first manager here at KUB also taught me many things about being a woman in this mostly male business. She knew it could be hard, but she showed me how to be confident. Those lessons have helped me as I moved into my current role, and I now have the chance to pass those lessons on to others.
What innovations would you most like to see next in wastewater?
One of the teams I lead is tasked with preparing KUB for the future of wastewater regulations. As I learn more about what could be coming, I would like to see more research being done on treatment technologies for these emerging contaminants. Ideally, these parameters would be eliminated or treated at the source, but wastewater plants are often the passive recipients of many constituents. More economical and efficient ways of treating some of these contaminants would lessen the burden on the utilities and help meet our goal of being environmentally responsible.
What advice would you give other women looking to pursue a career in this field?
I would encourage any woman to join the wastewater industry. There are so many opportunities available, including plant operators, engineers, and laboratory analysts. My advice would be to visit a wastewater treatment facility and talk to other women working in the industry about their experiences. Although working in this field can be challenging, it is also very rewarding. We get to work with, and for, our community, and we go home every day knowing that our work has contributed to protecting the health and welfare of our customers and the environment.
Inspiring Women of Wastewater™
In 2017, Aquafix has launched a new campaign to honor the hardworking female wastewater operators that make up only about 5% of the industry. We want to use our platform to project these voices, and introduce the women of tomorrow to a whole new set of role models. To learn more about the Inspiring Women of Wastewater™ program, and to sign up or nominate another outstanding female operator follow the link below!