At Aquafix, our eagerness for fixing every problem in the wide world of wastewater means we encounter some of the strangest situations water can offer. In this new series,
Unique Applications
, we look at some of our most stand out issues and most inventive solutions.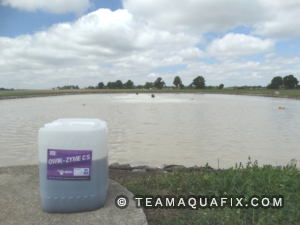 An aerated lagoon system in Illinois was struggling with incoming BOD around 25,000 ppm due to a high fructose corn syrup influent.  This resulted in odor complaints, high electricity bills, and only a 40% removal of BOD.  Eventually the pH of this 1 acre lagoon dropped to an acidic 3.5.  We responded to the challenge of this system with a full treatability test, and the results lead us to create a new biocatalyst that accelerates the breakdown of complex, high molecular weight polysaccharides found in high fructose corn syrup, corn starches and vegetable starches: Qwik-Zyme CS.  After 30 days of treatment this lagoon is now achieving 90% BOD removal, no odor, and a more stable pH.