What can BugJuice do for your digester?
The catalysts in BugJuice convert insoluble BOD to soluble simple sugars and materials so the bacteria can digest it. This process promotes great sludge reduction.
Many new wastewater treatment plants do not have primary treatment. This means the aeration basin catches everything including hard-to-digest fats, surfactants, paper products, and complex chemistries sent by industries.
In other words, all the insoluble BOD goes into the digester or sludge storage tank, and BugJuice is going to significantly reduce it.
If you think filaments are causing poor settling, contact the Aquafix Laboratories for microscopic analysis.
The Story Behind BugJuice
Four years ago we visited Jim, a wastewater operator who wanted a product to put in his aerobic digester to reduce sludge and save hauling costs. Our lab researched and ran tests to understand why certain materials and solids were not breaking down properly.  It took two years to create a biochemical catalyst this powerful and helpful to the bacteria.
We took it to Jim, and it improved his settling and reduced his hauling by 40%. Jim and many operators continue to use our BugJuice and swear by it.
---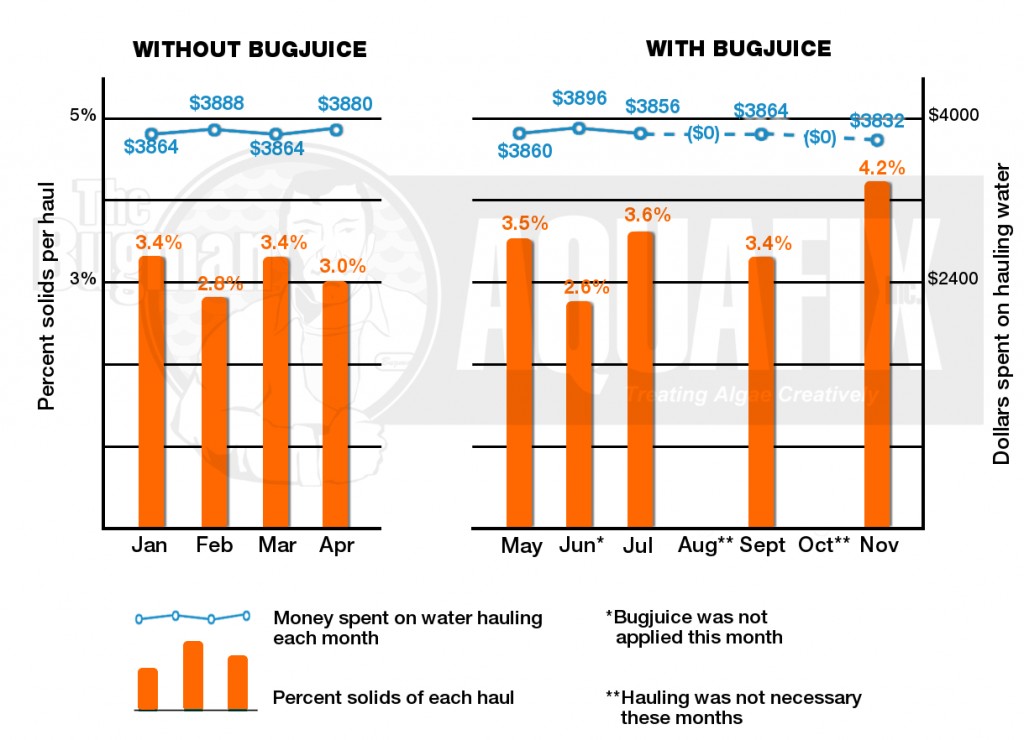 This municipality operates a 300,000 gpd activated sludge plant. All of their solids from their plant goes into one of two 100,000 gallon digestors.
Monthly one of the digestors is hauled off to a field for land application. It costs roughly $4000 per month to haul sludge.
The Case Study graphs show how their percent solids and wasting schedule compares before and after treatment.
The operator says in a small city everything you can do to save money helps. "BugJuice saves us about $24,000 per year in hauling. A savings my Mayor appreciates."
---