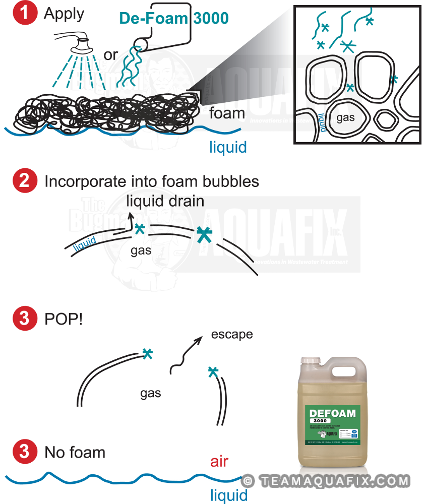 Not a Silicone Defoamer!
Industrial defoaming agents are often silicone-based, and we strongly recommend against them in biological systems. The silicone formulas are harmful to bacterial life, and interfere with settling. Silicone anti-foams break down into siloxanes, which corrode combustion engines and dismantles the biomass. DeFoam 3000 does not contain silicone, and works with your wastewater plant's biology.
DeFoam 3000 is a highly effective and concentrated anti-foam solution formulated specifically for use in aerobic and anaerobic wastewater treatment processes.  Our product knocks down foam, while being safe for biological processes, as it contains zero emulsifiers or silicons and won't harm bacterial life or interfere with settling as it breaks down your toughest foam.  The all-natural essential oils blended in give the product a sweet aroma and longer lasting abilities compared to chemical and silicone defoamers.
The table below gives a clear breakdown of the differences between a silicone defoamer and biologically-based DeFoam 3000.
Defoam 3000 vs Silicone Defoamer
| | | |
| --- | --- | --- |
| | DeFoam 3000 | Silicone Defoamer |
| Activeness of product | 100% active | Generally 10% active |
| Emulsions | No emulsions | Contains emulsions, which disperse biological floc |
| Time taken to see results | Knocks down foam at a slightly slower rate | Rapidly knocks down foam |
| Lenght of effectiveness | Lasts for 6 to 8 hours | Lasts for 30 minutes to 2 hours |
| Dosage | 1/2 to 1 gallon per 1,000 square feet | 5 to 10 gallons per 1,000 square feet |
| Odor | Essential oil aroma and strength | Chemical odor |
Companion Products
Using DeFoam 3000 on Microthrix Parvicella?  Couple it with Foam Buster  or  Qwik-Zyme L for maximum impact.  These two take-no-prisoner formulas digest grease and cut off its food source.
DeFoam 3000 Applications
Dairy
Food Processing
Municipal
Refineries
Manure Pits
DeFoam 3000 Benefits
Tough on Microthrix Parvicella
Works at low dose rates
Contains zero emulsifiers or silicons
Long-lasting
Ultra-concentrated