Description
VitaStim Surfactants Applications
Industrial Wastewater Plants
Municipal Wastewater Plants
VitaStim Surfactants Benefits
Creates a healthier biomass under toxic conditions
Prevents foaming and bulking
Increases cell metabolism
Provides better BOD removal
Provides fast recovery from high loadings
Improves settling
Reduces sludge production
Easier plant operations
Dosage Rate:
Initial: 1/2 lbs per 100,000 GPD per day for 30 days
Maintenance: 1/2 lbs per 100,000 GPD every other day for 30 days
VitaStim Surfactants Case Study
Manufacturer of Luxury Soaps Controls Fatty Acid Foaming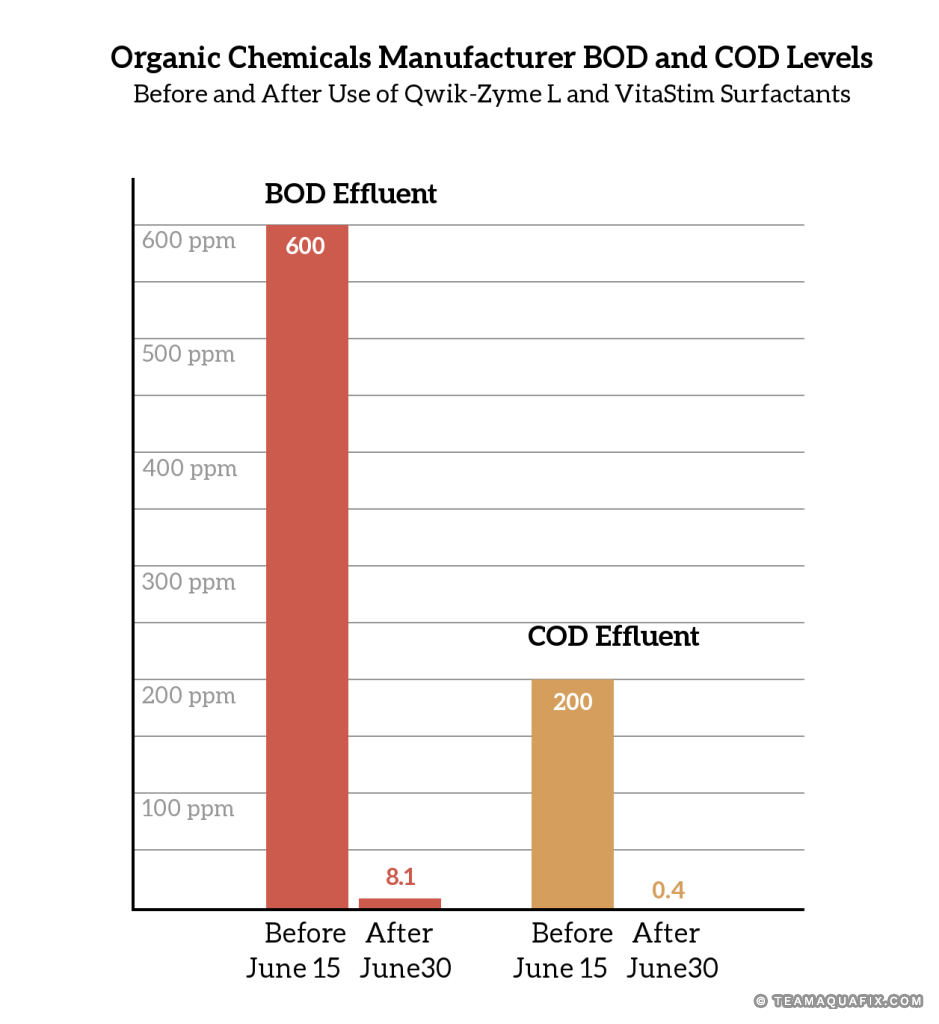 Challenge
High Lauric and Stearic Fatty Acids
Solution
Qwik-Zyme L, VitaStim Surfactants
Results
An organic chemical manufacturer in North Carolina contacted us about foam being generated in their treatment system. They use a series of two lagoons, with high aeration in the first lagoon to pretreat their waste stream before sending it to the municipal wastewater treatment plant. The waste stream has high concentrations of lauric and stearic acids which contribute to influent BOD 600 ppm, and COD 200 ppm. The system was not achieving complete breakdown of these fatty acids as the waste stream moved quickly through the system. The operator began using VitaStim Surfactants to add new bacteria cultures which break-down of fatty acids. This improvement was enough to make the customer happy, but we thought that adding our Qwik-Zyme L, liquid enzyme product, would help break down the fatty acids even more quickly. The enzyme accelerated the process, a huge benefit in this waste stream with a short detention time. The combination of enzyme and bacteria brought the systems effluent waste stream down to BOD 8.1 ppm, and COD .4 ppm.