The Dynamic Duo Promotes Fast Recovery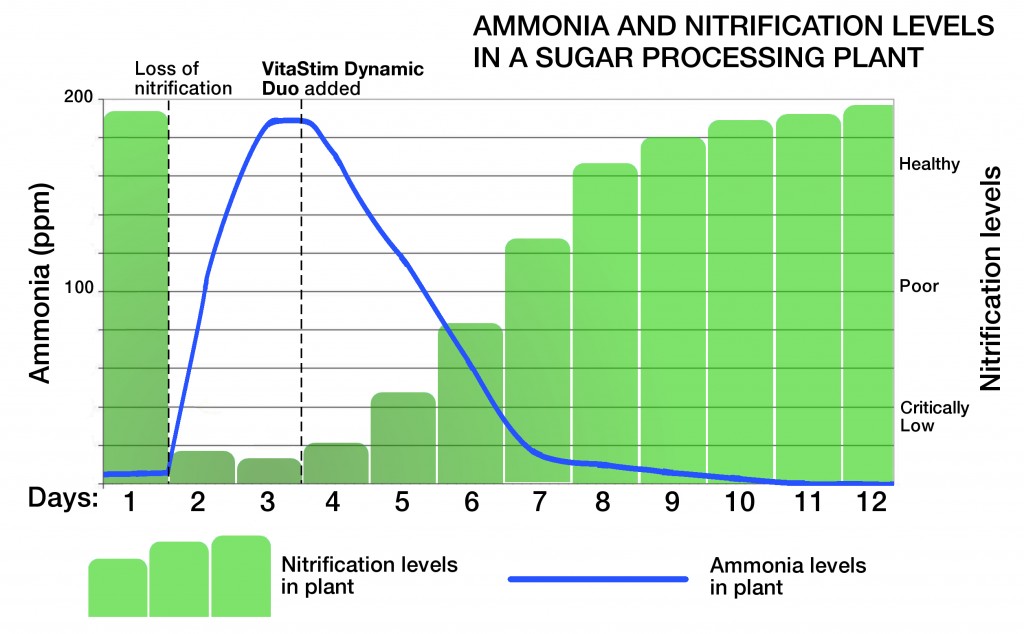 The Dynamic Duo makes use of the combination of our VitaStim Ammonia Assimilators and VitaStim Nitrifiers for premium ammonia removal. They contain high amounts of active nitrifying bacteria including Nitrosomonas, Nitrospira, Nitrobacter and heterotrophic nitrifiers at the highest concentration in the industry. They also contain powerful micronutrients to boost the growth and reproduction of the nitrifying bacteria.
The combination of these two products produces the fastest nitrification recovery.  The biostimulants and hetrotrophic cultures in VitaStim Ammonia Assimilators works with the VitaStim Nitrifiers concentrations to produce the highest and fastest growth rate. We use two types because they remove ammonia with two different mechanisms, in a certain sense, you can say one is like rear-wheel drive and the other front. The use of both propels your plant to ammonia removal and full nitrification.
The Dynamic Duo are specifically adapted to work in a range of wastewater conditions, taking into account the chemistry you currently use, any physical limitations of the plant, and the present microorganism population.
VitaStim Dynamic Duo Applications
Municipal Wastewater
Industrial Wastewater
Refineries
Rendering Facilities
Aquaculture
Benefits of the Dynamic Duo
Rapid recovery from upset
Improved nitrification
Super concentrate formula
Lower effluent ammonia
Rapid start-up of new plants
Creates healthier biomass
Increases cell metabolism
More Information
Seven Steps to Restoring Nitrification