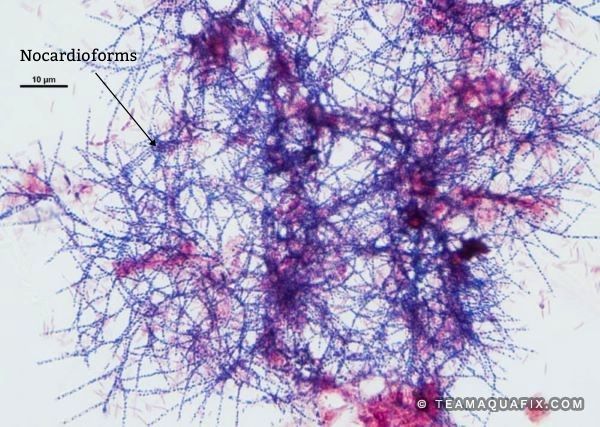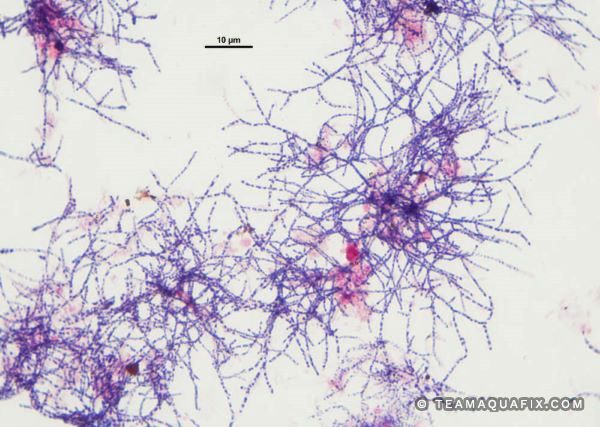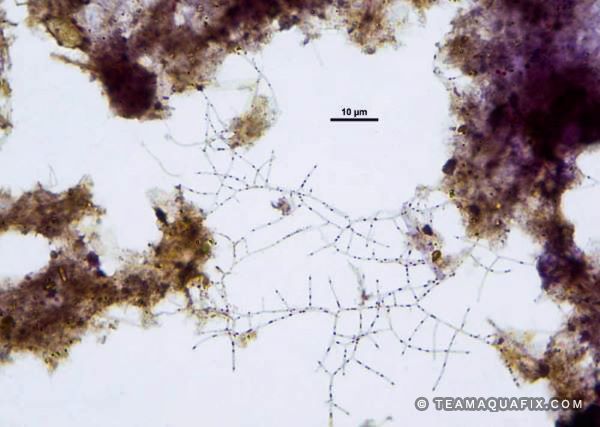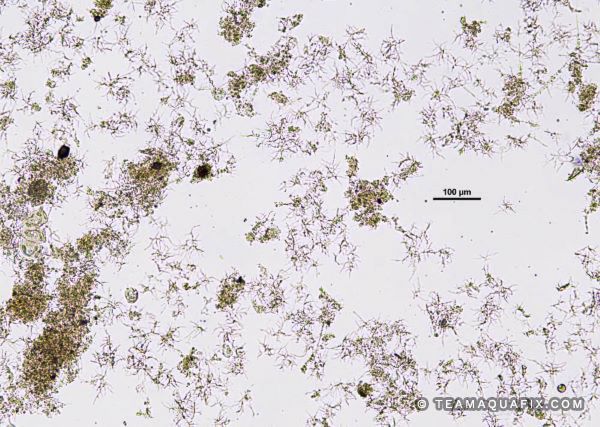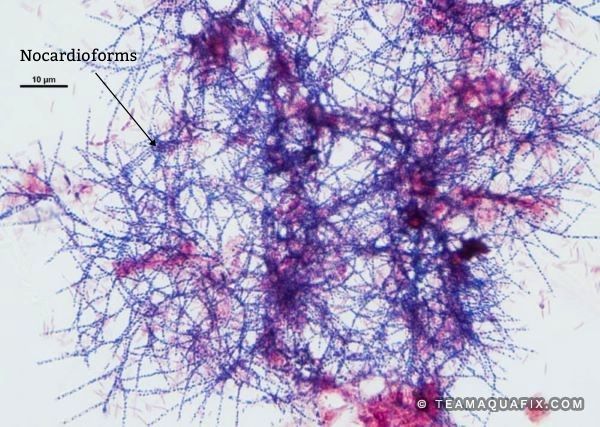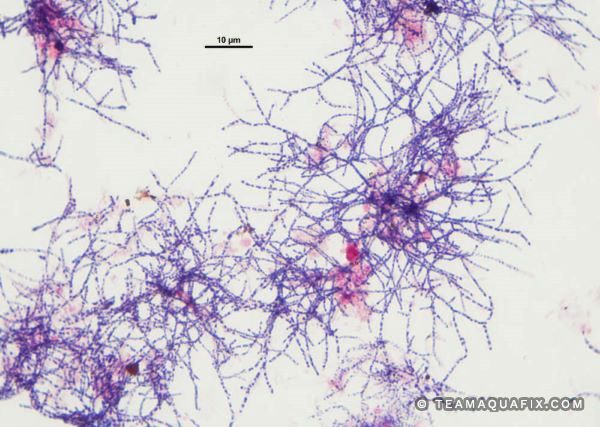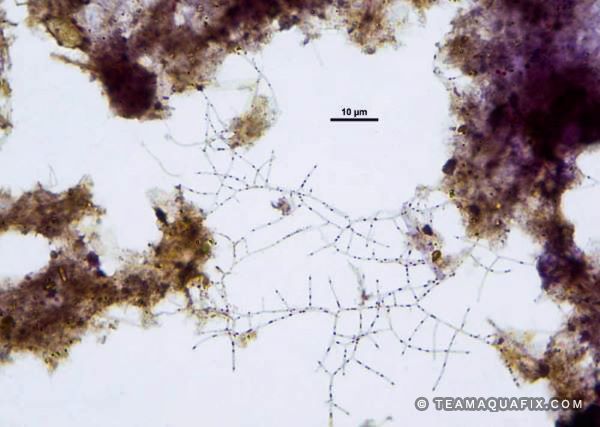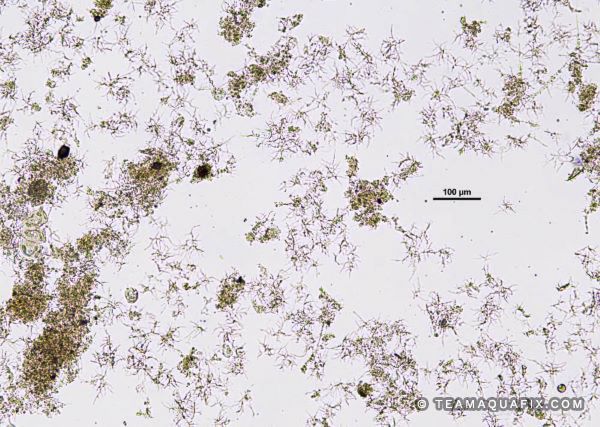 Identification
True branching
No visible cells
Gram postive
Frequently contains Neisser postive granules
Why Do I Have It?
Old sludge age
High levels of fats, oils, and grease (FOG)
Effects on Wastewater Systems
Nocardioforms can cause foaming, bulking, and high effluent TSS. Nocardioforms typically produce a thick stable foam, but can also form thin layers of scum.
Treatment
To reduce the abundance of Nocardioforms, Aquafix recommends the physical removal of grease and increasing wasting. Do not use a defoamer as it can cause the foam to worsen. When resources are available, vacuuming off the foam will speed up treatment, as Nocardioforms tend to concentrate in foam. For biological correction, Aquafix recommends treating Nocardioforms by metering in Qwik-Zyme L upstream. Qwik-Zyme L is designed to degrade undigestible grease compounds into short-chain fatty acids, a form consumable by the floc-forming bacteria. Adding Foam Buster provides a blend of micronutrients, amino acids, and complex proteins that help floc forming bacteria to better compete with filamentous bacteria, such as Nocardioforms.
Because wastewater issues and the cause behind filaments can be complex, we recommend our
Filament ID and Microanalysis
. This not only confirms organism ID, but looks at biological indicators, plant design, and incoming substrates to decode your unique process.
Under the Microscope and in Your Plant
Nocardioforms are a category of filamentous bacteria (including but not limited to, Gordonia (Gordona) amarae) that can cause bulking or foaming to occur. This filament tends to be present in systems that have a higher sludge age and a high level of incoming fats, oils, and greases (FOG). Nocardioforms can usually be identified under 100x magnification due to their distinctive branching. However, it is best to definitively identify this filament with a Gram stain under 1000x magnification. Nocardioforms have no attached growth, no sheath, and no clearly visible cells when observed with light microscopy. Nocardioforms start as small fragments and as they grow, they develop true branching. They are the only wastewater filamentous bacteria with true branching. Nocardioforms are Gram-positive filament and stain Neisser negative but frequently have Neisser positive granules.
These filaments can grow within floc, preventing proper floc formation from occurring. Foaming, bulking, and scum formation occur when Nocardioforms form a tangled mat-like structure that floats to the top of water due to its low-density fatty cell walls. Microscopic observation is the only way to definitively determine if the foaming/bulking/scum is caused by Nocardioforms.
Unique Experience in the Field
A chicken processing wastewater facility was experiencing foaming. After microscopic analysis, we determined the foaming was caused by Nocardioforms. To treat the Nocardioforms, the plant decided to chlorinate their sludge returns but kept wasting at the same rate. This seemed to work for the first week but then the filament foaming came back, producing over five feet of foam. This plant was 50 yards from a major highway, so the foam blew onto the highway and caused vehicles to spin out. Shortly after this, the operators contacted Aquafix and started using Foam Buster and Qwik-Zyme L instead of chlorinating. This change in treatment effectively eliminated their foaming.