Why is it so important to control fats, oils and grease?
In the winter months, when water temperatures are colder, the naturally occurring bacteria cannot completely break down FOG and the fatty acids that build up in the wastewater plant. These fatty acids are then taken up by filaments like Microthrix Parvicella and Nocardia which allows them to float and foam. Qwik-Zyme L breaks up these fatty acids and cuts off the filament's food source. It's fascinating science for wastewater operators.
This product is either metered or poured into the front end of the wastewater process.  Do not spray this product into the air.
Qwik-Zyme L Applications
Collection Systems and Lift Stations
Sequencing Batch Reactors (SBRs)
Municipal Plants
Egg Processing Plant
Qwik-Zyme L Benefits
Reacts quickly
Degrades fat, oil, and grease (FOG)
Prevents foaming
Cleans plants
Easy to use
How Qwik-Zyme L Works: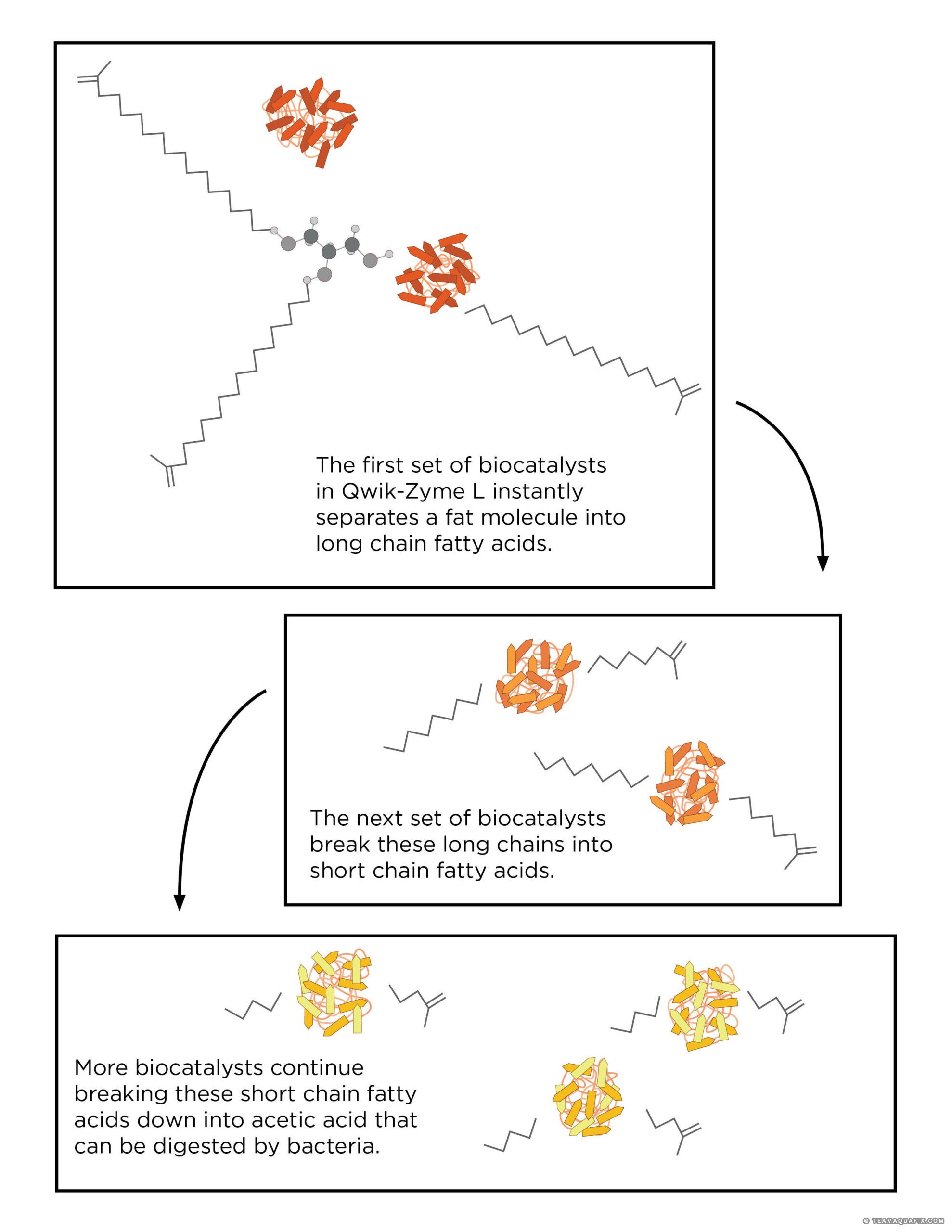 Recipe for Nocardia Removal
1.) Waste solids 20-30% (Example: if MLSS is 3000, waste to 2100-2400 ppm)
2.) Add Qwik-Zyme L to the head of the plant (Double dosage if possible).  This will heavily break down FOG for the bacteria to easily digest.
3.) Add Foam Buster to the head of the plant or aeration basin (Double dosage if possible).  This will activate and stimulate the bacteria to specifically break down FOG that is feeding the Nocardia.
4.) Keep MLSS low for 2-3 sludge ages
5.) After, rebuild the biomass
(Optional: Add Bug On A Rope to lift stations to start the FOG degradation process sooner)
Companion Products
Foam Buster for Grease-Fueled Filaments: Fats are often a key contributor to the presence of foaming filaments like Microthrix parvicella and Nocardia in wastewater plants. Pair with Foam Buster to alter the bacterial population to select against foaming filaments. When possible, increase wasting to lower sludge age during filament control treatment.
Unsure of which Aquafix grease product to use on your issue?
Contact your technical rep for custom recommendations and more information