Description
Traditional Grease Control Bricks
Traditional bricks for grease control are made with hardened soap, wax and oils.  The same materials that build up in lift stations. This means the bricks have to degrade their base in addition to what is in the lift station.  The bricks are held together with a mesh net, which catches a lot of paper and makes them a mess to retrieve.
Advantages of Bug On A Rope:
Bug On A Rope provides a big boost to any lift station
Releases seven strains of bacteria, productive biocatalysts and oxygen-rich biostimulants
Degrades fats, oils, and grease in lift stations and sewer lines
Lowers BOD & sulfide generation
Works 3x better than its soap-on-a-rope counterpart
When it's done, you simply pull out the plastic core
The Story Behind Bug On A Rope
About four years ago a customer of ours, Dan, was using a netted brick  from a janitorial supply company, and he said it worked so-so. We went to work studying grease deposits from lift stations and what types of bacteria were truly needed. We found all types of fat, oil and grease (animal fat, vegetable oils, etc), and then asked ourselves how can we bind this bacteria with biostimulants to really activate their growth. It took us three years of research and development to come up with the Bug On A Rope, which was named by another customer, Mitch. Both of these customers still use the product as their only source of grease control and swear by it.

Dosage Rate
How to use: 
The faster it dissolves, the faster the results.  The operator controls the dissolving rate.  The closer the brick is to incoming flow, the faster it will dissolve.  Weather also controls the dissolving rate, if it is warmer the brick will dissolve faster and vice versa.
Where to Place:

Heavy Grease: When grease is the heaviest, place Bug On A Rope directly under the incoming flow.  If one cannot place under flow, use two Bug On A Ropes.
Moderate Grease:  For grease maintenance; when lift station is at its lowest flow rate, place Bug On A Rope 1-2ft under water in middle of lift station.  This will assure best dissolving rate during moderate incoming levels of grease.
Dissolving Rates:
Heavy Grease: If directly under the flow, a brick will last about two weeks in a 100,000 GPD lift station.  In a 20,000 GPD lift station it will last 6-8 weeks.  After, knock any remaining off the plastic core into the lift station.
Moderate Grease:          

20,000 -50,000 GPD                2-3 months
100,000 GPD                           6 weeks-2 months
300,000 GPD                           3 weeks
Testimonials
"It worked so nice in my wet well that the neighboring wastewater plant came to see it. I have a large flow, 0.5MGD, so it only lasts a few weeks. I don't care, the grease goes away!"– Alan in Marion County TX.
"We have a lot of small lift stations (10-20,000GPD). We can keep them clean most of the year, but come Thanksgiving and Christmas we get overloaded, and I hate getting alarm calls when a float gets hung up. Bug On A Rope has really helped." – Chuck in Union, WI.
Case Study – Lift Station Grease Control
Challenge: An Illinois municipality has a 100,000GPD lift station that regularly builds up with FOG. The operator wanted an easy and long-lasting product to correct the buildup of fats, oils, and grease.
---
Solution:
Because the operator had placement limitations, he couldn't place the brick directly in the current. He then placed two bricks on the bottom of the lift station about 4ft under the water.
Results:
After 30 days, the bricks only dissolved about an inch each, but the lift station completely cleared up. The operator says the bricks last up to four months and claims it's the only thing that's worked!

Case Study – Grease Mat Elimination
Customer: North Carolina, Municipality
Lift Station: 50,000 gallons per day
Challenge: Prevent grease accumulations, and reduce frequency of pump outs.
The operators of this collection system had one troublesome lift station that required pump-outs at least quarterly. Almost immediately after each pump out the grease began accumulating a grease ring around the perimeter again. Over a period of about 1 month the the grease coverage would transition from a ring to a full floating mat of grease that interfered with float operations, resulting in excessive maintenance.
---
Solution: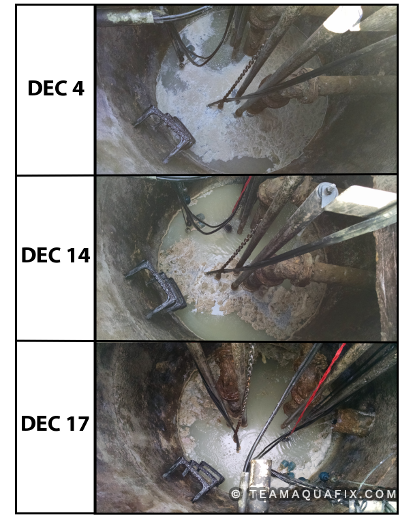 Given their flow rate of 50,000 gallons per day, we asked the operators to hang the Bug On A Rope brick directly under the incoming flow. With this placement, water runs over the block and it slowly dissolves, releasing its bacteria and biostimulants into the waste stream. We've found that including the correct blend of nutrients is just as important as the bacteria we select for Bug On A Rope. Within only a few short weeks operators were seeing dramatic improvements. The station now require much less frequent pumping, and maintenance costs and time spent are both dramatically decreased.