Degrade It, Don't Push It!
Most grease removal products are citric-based oil-separators that just push along the grease or don't work at all. If pushed, the harmful materials go right to the wastewater treatment plant, which can cause major upset and foaming. GreaseZilla will degrade and digest heavy buildup of fats, oils and grease stuck on the the walls of lift stations and pipe lines, leaving the wastewater free of incoming grease.
Also great for those winter holiday overloads, like Thanksgiving.
*For maximum grease removing results use with Bug On A Rope.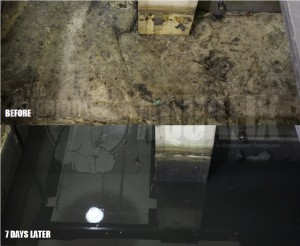 GreaseZilla Applications
Lift Stations
Wet Wells
Drain Lines
Sewer Lines
Grease Traps
GreaseZilla Benefits
Degrades and breaks down grease
Safe and easy to apply
Fast-acting formula
Contains no petroleum solvents
Great Results
Non-Flammable
Gentle on cords and floats
Works well for winter holiday overloads
Companion Products
Better Together: Bug On A Rope and GreaseZilla. Our top lift station grease products are even better at tackling the toughest grease when used together. GreaseZilla Liquid's aggressive liquid biology clings to grease and dissolves it completely, making it perfect for addressing hardened and old accumulations, and its hardworking bacteria make it perfect for eating up severe incoming grease loads. After existing accumulations are degraded, Bug On A Rope is placed in the lift station to provide continuous maintenance for grease degradation.
Unsure of which Aquafix grease product to use on your issue?
Contact your technical rep for custom recommendations and more information