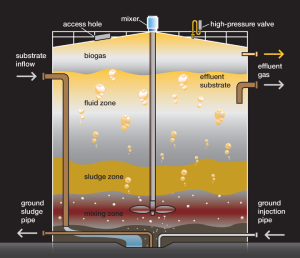 The Digester Doc, a good friend of Aquafix, has been analyzing and improving anaerobic digesters for quite some time.  The Digester Doc performs treatability tests and optimizes the digester's performance to maximize digestion and biogas production while keeping stability.
Some of Digester Doc services include biogas monitoring, life-cycle analysis, methane potential, and mass balance calculations.  These services may include three to four samples per year with pictures to help the client understand the health, populations, maturity, germination, growth, and methane potential of their digester.
Recently Will Charlton, The Digester Doc, was commissioned to perform a treatability and optimization study for a foaming anaerobic digester. The client is an operator of a 2 MGD municipal wastewater treatment plant experiencing varying degrees of foam for the last three months. The operator feed silicone defoaming agents regularly to combat the foam.  The client didn't have some of the telltale signs of an upset digester other than the foaming.
Will ran BioMethane Potential tests as well as other treatablity tests. He took substrate from the foaming anaerobic digester, created a bench scale anaerobic digester microcosm, added different amendments and tracked the impact on foam, and methane production. He discovered during testing that Aquafix's VitaStim Grease performed the best. The client ultimately purchased VitaStim Grease, and has had no foaming since.
Although Will didn't not find a trace metal deficiency, most common deficiency in digesters, at this particular plant, he can determine if any digester would need Aquafix's BioGas1, as well as any other bacteria or biocatalyst solution.
Click here for more information on the Digester Doc
Below is a video describing The Digester Doc's services